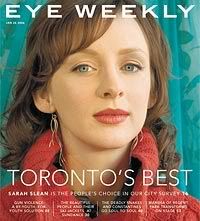 Nancy "Satine" was the first to notice that Sarah is on the cover of the free weekly, EYE. Sarah is interviewed at the Spin Gallery where her art show is to take place. Some new artwork that she did in Banf might make an appearance at the show. This year Sarah was voted Toronto's best musician in Eye's year end poll, the Spin Gallery was voted best small gallery.
Sarah might be featured on the biography channel sometime too.
Read the full article online and view a second picture.