Update: October 2, 2006
The Glenn Gould show has been cancelled but may be reschedualed for next season. I received the following email today from the Glenn Gould Studio advising of the cancellation.

"I am sorry to inform you that the Night and Day Concert featuring Lou
Pomanti/Sarah Slean/Roxanne Potivin concert has cancelled due to
scheduling difficulties.

The producer hopes to mount this concert next season.

Please be assured we will destroy your order form with your personal
information.

Please accept my apology for this situation and I hope that we may see
you at Glenn Gould Studio in the future."
Original Post: August 15, 2006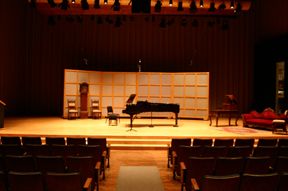 With the news of one of Sarah's only Canadian shows for 2006 being cancelled, I am happy to announce a 2007 date of Sarah in Toronto. The show has not been announced on Sarah's official site but confirmation does come through the CBC Glenn Gould Studio web site.
Sarah will play the Glenn Gould Studio this spring. Also on the show's line up "Night and Day" are Lou Pomanti and Roxanne Potvin. The artists are to play great standards as part of the
CBC serries OnStage
. Order forms can be picked up and mailed in online to be processed before the public sale of October 3, 2006.
Pianist, vocalist, visual artist and photograpger Sarah Slean released her first album, Universe, in 1996 at the age of 19. As well as writing original material, Sarah has been known to cover tunes from classic to contemporary. What could be more appropriate than to welcome her back to Glenn Gould Studio - she is a big fan of Canadian pianist Glenn Gould, and wrote two songs about him: the unreleased "Glenn Gould Song" and "Before Your Time", which appeared on her 1998 album Blue Parade.


For more ticket information visit:
http://glenngouldstudio.cbc.ca/onstage/Season13/06NAD.html
Although the box office only opens in September, new information is being published on their website. I have been in contact via email with the Glenn Gould Studio and they have yet been able to provide me with a date.